Game ITF Medium-fast pace artificial grass tennis fields
Condor Grass artificial grass tennis fields have been ranked by the International Tennis Federation (ITF) for use in the most preferred types of play: medium-slow, medium, medium-fast and fast. All surfaces deliver a natural ball bounce and facilitate comfortable sliding. By using a reinforced backing, Condor Grass artificial grass for tennis fields also manages to handle horizontal tension perfectly.

Our Condor Grass Game product is a 15mm sand-dressed system that is made of monofilament yarns to achieve the right game experience. The ITF has classified this surface as a Pace 4, medium-fast surface. This surface is perfect for recreational use as well as by clubs that play competitive tennis.

The surface is produced in a unique shade of green that enables players good visibility of the ball, while the surface will blend in with the environment.
An automated production facility using robotic technology guarantees the quality of the carpets and diversity of the portfolio. Recently installed state-of-the-art tufting machines can combine different yarns and adjust the pile length and density to produce unique products. Our quality control system makes certain that the product is made as intended.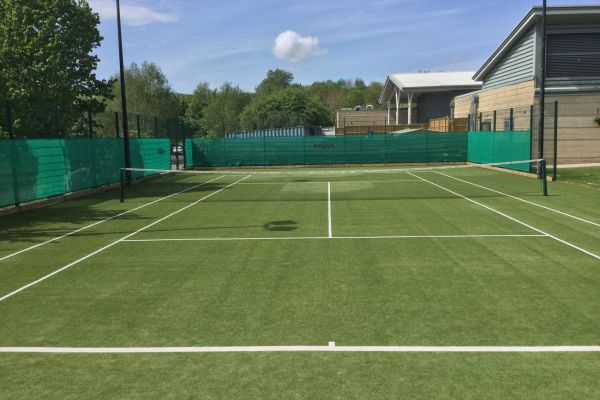 Tennis Also see our other artificial tennis fields