Service & Downloads Customer Service
Do you have a question about our products, service or delivery? You may find the answer below among the frequently asked questions. Is your question not listed? Contact us and we will be happy to help you!
FAQ's
Manuals
Other downloads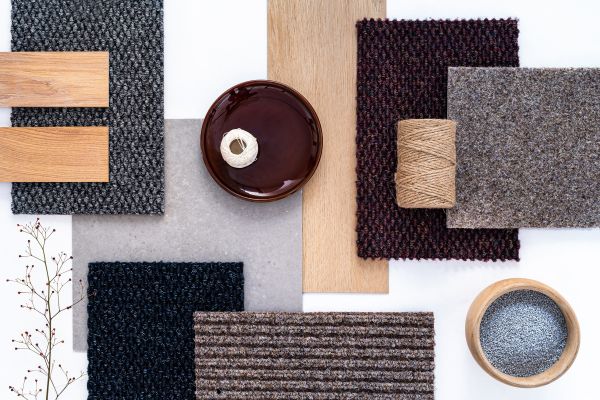 Our answers to common questions Frequently Asked Questions (FAQ)
Of course, we are happy to answer your question personally. It may be that your question has already been asked and answered. That is why you will find an overview of the most frequently asked questions and answers here.
Advantages
What are the benefits of needlefelt flooring?
Wide range of colors, designs and styles; Color / pattern and design tendencies make carpets an ideal element for creating dynamic furnishings that are not afraid to make a striking design statement in a room.
Longevity and sustainability; A reduction in environmental pollution and an improvement in general properties can be achieved in every life cycle. Therefore, good quality carpeting plays an important role when it comes to reducing the environmental impact of your project.
Promotes a healthy indoor climate; Studies have shown that textile flooring is much better able to absorb allergens than hard flooring. Every single carpet fibre catches particles and allergens when they fall on the floor. Just like with allergens, the textile floor covering binds the dust, which can then be completely removed by regular brushing/vacuuming and occasional thorough cleaning. Therefore, textile flooring is an excellent choice for projects where indoor air quality is important in various property segments.
Improves room acoustics; Carpet offers extraordinary acoustic advantages and reduces noise, as it has a sound-absorbing effect and does not reflect the sounds, as is the case with hard surfaces.
Promotes thermal insulation, comfort and energy efficiency; The indoor climate in rooms can be significantly improved by laying textile flooring. Carpet not only offers more warmth, but also makes a measurable contribution to general thermal insulation. Due to their low thermal conductivity, the fibres also serve as natural heat insulators. Because of this, carpeting does not draw heat away from your feet as quickly as smooth floors. In addition, the surface pile of the carpet holds heat and thus further improves the thermal insulation.
Provides a safe environment; Textile floor coverings are advantageous from an orthopaedic point of view because the soft and elastic fibres have a cushion-like effect and the surface conforms to the foot. This distributes the body weight evenly across the joints. A textile floor covering is recommended in buildings where people run the risk of falling, slipping or tripping. Textile floor coverings give the foot a better hold than smooth flooring materials and act like static friction on the soles of the feet.
What are the advantages of carpet tiles?
Numerous design options in terms of color and design:
Comfort in every movement
Representative optics
Quick, easy and extremely flexible installation
Easy to clean and environmentally friendly
Little waste
Partial replacement of individual tiles
Longer service life by replacing individual tiles
Renovation while business is running
Improves the room acoustics
Technical Information
How is needle felt floor covering made?
First, the fibers are divided into different colors - depending on the needle punch design. There are fine and coarse fibers with a fineness of 17-135 dtex (decitex). The unit of measurement decitex indicates the weight of a thread in relation to its length. In a complex weighing and mixing process, staple fibers are pre-needled from bales by means of grinding, carding and cross-laying to form a fiber fleece. The fiber fleece produced in this way is then finish needled as a flat felt in a second work step and connected to the carrier material. In a third step, the goods are foam-impregnated with a latex binder in a full bath and then dried.
How does the needling process work?
The needle machine consists of a needle board that moves vertically in rapid strokes, with the needles piercing a needle grid in the lower vertical movement. The fiber fleece is pulled through horizontally between a hold-down device and the needle grate at a defined speed.
Barbs on the needles bring the fibers from the fleece surface through it, which creates a vertical entanglement of the fibers within the fiber fleece. Depending on the number of strokes, puncture depth and the withdrawal speed of the fiber fleece, the needling can be more or less pronounced, with which, depending on the use of the goods, correspondingly harder or softer needle felts can be produced.
Our manuals and downloads Downloads
Below you will find various downloads for our floorcoverings.
Any questions? CAN WE HELP YOU?
Do you have questions about our service, products or specific orders? We are at your service! Please contact one of our staff members directly.