Let's introduce you to our Coating Manager Erik
Our proud Coating Manager Erik has taken us on his interesting journey at Condor Carpets and -Grass. With more than 20 years of experience within the Condor Group, Erik has taken the development of the coating department to a whole new level. He has shared his story with us below.
My role as Coating Manager

Erik has an experience of over 20 years at the Condor Group, including 7 years at our subsidiary VEBE. That was when he started experiencing the production. After 7 years, Erik wanted to continue growing within the Condor Group and started the position as coating manager at Condor Carpets. He finds it amazing to be part of the growth, as well as developing the coating line in such a way as to create the best products.
'My daily job starts with a walk around the department and having chats with colleagues. Then, I have meetings with the other departments involved about our progress. We continuously exchange information to ensure that all the departments can function properly. After these meetings, I continue my day with purchasing processes, supplier contacts, and quality monitoring. I am also responsible for the trials we often do for product development. In addition, I am often looking for where we can improve our coating lines, and do that together with my team.
Working in a team
The way everyone is involved with each other is the key to success, according to Erik. He has therefore created a motto:
'If the work atmosphere is good, the quality and productivity will come automatically'
'I truly find it very important to have constant contact with my colleagues at the coating. Therefore, I have fixed contact moments where I talk to them every day about the past- and upcoming 24 hours. Not only about our progress, but also about their well-being. I am a strong believer that there will not be any success if there is no motivation. I like my job the most when I am in the factory talking with them and walking next to the lines. I am always informing my team about any changes and they know that any suggestions and feedback are welcome. We are together as a team responsible for the coating and it is therefore required to collaborate well.'
My vision
'The charm of a family business is half the way to success'
'I am convinced that working in a family business creates a different level of motivation. Every time, you want to have a valuable contribution and you are together constantly working on innovative changes, projects and sustainability. The charm of being connected with one another, the communication and flexibility make my job pleasant and challenging in a positive way.'
Since the trials of product development take place in the coating department, Erik is also closely working with developments on circularity. 'We are also working very hard to become a more and more sustainable organization. And being part of such a big change is amazing and I am convinced that it will bring the Condor Group to a whole new more sustainable level of success. I am proud to be part of such an outstanding organization.'
Erik, we thank you for your time and contribution. Your pleasant story was nice to listen to!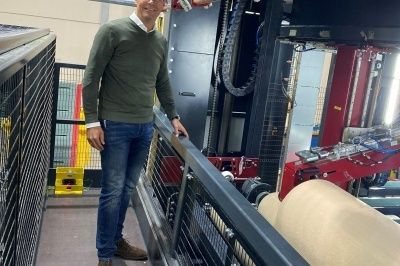 Relevant items